The Mazda MX-30 Hybrid
The Mazda MX-30 is an exciting and eco-friendly offering that arrives with all the high quality and reliability you expect from a Mazda packaged in an SUV that is as eye-catching as it is economical. If you're in the market for a new or used SUV, then the Mazda MX-30 may be just what you're looking for. With both electric and hybrid options and a range of excellent features, there's a lot to love about the Mazda MX-30. This guide has everything you need to know about it to decide if the MX-30 is the crossover SUV for you.
Mazda MX-30 Hybrid Performance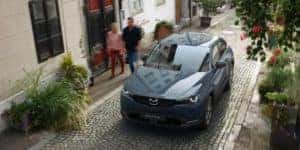 The Mazda MX-30 is expected to arrive on the scene with an electric engine capable of producing 144 horsepower and 200 pounds of torque. The all-electric option arrives with a range of approximately 110 miles with fast-charging capabilities that can refill the battery from 20% to 80% in just 36 minutes.
Where the MX-30 hybrid model stands out is in the increased range that it provides. The MX-30 hybrid will feature a series hybrid engine, which means no gasoline serves to power the drive train directly at any time. Instead, fuel helps to recharge the battery of the engine, allowing for an expansion on the overall range in between charges. By combining this expansion with the fast-charge capabilities, the Mazda MX-30 hybrid is significantly more suited to long drives than its all-electric counterpart.
Mazda MX-30 Hybrid Seating and Storage
The design of the Mazda MX-30 hybrid sets out to maximize the effectiveness of the space it provides. Rear hinge doors for the back seat provide easier access when getting in and out of the Mazda MX-30 hybrid. With seating for five and a back seat that folds down in a 60/40 alignment, you can customize the rear of your vehicle to meet your seating and cargo needs. The lack of a battery in the trunk of the Mazda MX-30 hybrid serves to further enhance the storage capabilities it provides.
Mazda MX-30 Convenience Technology
When you take your Mazda MX-30 hybrid for a drive, there are plenty of excellent technology features to make your drive more enjoyable. Some of the entertainment technology available with the Mazda MX-30 hybrid include:
Widescreen Infotainment Screen
The clear display of the widescreen infotainment system in the Mazda MX-30 hybrid makes it easy for you to access your vehicle's various systems, ranging from climate control to navigation to entertainment.
Digital Gauge Cluster
Clear gauges make it easier for you to monitor your Mazda MX-30 hybrid's performance. From checking your available range to keeping your speed under control, the digital gauge cluster provides you with simple access to all the information you need.
Cell Phone Integration
Pairing your cell phone with your car or SUV is now a must if you want to get the maximum functionality out of it. The Mazda MX-30 can link with your cell phone to allow you to play music, make and receive calls, and access other important phone features without taking your eyes off the road.
Remote Connectivity With Mazda Connected Services
The optional Mazda Connected Services plan provides you with increased functionality on your phone, including the ability to access key information remotely, as well as lock or unlock your Mazda MX-30 with your phone.
Mazda MX-30 Safety Technology
Taking advantage of the i-ACTIVSENSE sensors and monitoring, the Mazda MX-30 offers a broad range of safety technologies to protect you and your passengers. When you get behind the wheel of your MX-30 hybrid, you benefit from protections that include:
Adaptive Cruise Control
Smart cruise control functions with adaptive cruise control allow you to set your desired speed while still maintaining safe distances from vehicles around you through automatic throttle release and breaking to ensure you always have enough time to stop if the vehicle in front of you stops short.
Lane-Keep Warnings and Assistance
Staying in your own lane on the highway is an important safety procedure, and with lane-keep warnings to alert you when you begin to drift, or lane-keep assistance to adjust your vehicle's heading automatically, your Mazda MX-30 helps you be a safer highway driver.
Collision Warning Systems
Another excellent feature of the Mazda MX-30 sensor system is the ability to detect potential collisions on all sides. From rear collision warnings when you're backing up to forward collision warnings when driving, the sensors identify potentially dangerous situations and help you avoid them.
Automatic Emergency Braking
In some instances, the need to stop short is greater than even your reaction capabilities behind the wheel. With automatic emergency braking, your Mazda MX-30 can engage the brakes on its own when presented with a potentially hazardous situation in order to help you avoid an accident.
The Benefits of Choosing a Mazda MX-30 Hybrid
When shopping for your next new or used car, deciding between a gas-burning vehicle, electric vehicle, or hybrid is an important choice that can have a significant impact on both your wallet and your daily vehicle emissions. While each style of the vehicle still has its own benefits, there are many fantastic reasons to choose a Mazda MX-30 Hybrid, including:
Improved Economy vs. Gas-Only Engines
The biggest difference that a hybrid owner discovers when they make the switch from a gas-burning vehicle is the significant decrease in their gasoline consumption. Because hybrid engines use electric power and restorative braking to help power the vehicle, your MX-30 uses significantly less gas than comparable gas-burning engines.
Improved Range vs. Electric-Only Engines
On the other end of the scale, electric vehicles remove gasoline from the equation altogether, but they come with a limitation on their range. Although fast-charge technologies significantly improve the convenience of electric options, and MX-30 hybrid further expands your vehicle's ability to manage longer drives conveniently.
Perfect Balance of Convenience and Eco-Friendly Driving
By sitting in between the two alternative options, hybrid engines often provide a best-of-both-world scenario. The Mazda MX-30 further enhances the eco-friendly stature of the vehicle through its use of recycled materials in construction.
Hiley Mazda of Fort Worth Can Answer Your Questions About the Mazda MX-30
If you're interested in the Mazda MX-30 hybrid and have questions, the professionals at Hiley Mazda of Fort Worth can help. Come out to see us in person or fill out our online contact form and one of our team of professionals will speak with you about what the Mazda MX-30 hybrid has to offer and how it can help you. We would love to hear from you!