New Car Leases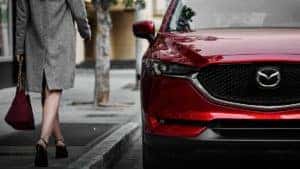 Leasing a vehicle is an excellent option for many drivers, but many aren't aware of what it entails. If you're thinking of leasing your next vehicle, here's an overview to help you get acquainted with the process. Be sure leasing is a good fit for your needs by doing the proper research or talking to a trusted dealer.
What Is Leasing a New Vehicle?
When you lease a vehicle, you're able to drive it as you normally would, but the difference is that you are renting the vehicle rather than owning it. This means that the dealership or leasing company will keep the title. If you'd like to drive a vehicle for a while without the commitment of ownership, leasing might be a great option for you. 
For every leasing arrangement, you'll receive terms that detail the length of the lease, the maximum mileage allotment, and the required monthly payment. The payment is based on the depreciation that naturally occurs when you operate a vehicle, along with fees and interest. When you get to the end date of your lease, you can either pay off the remainder of the vehicle's cost to own it, or you can return it to the dealership.
During your lease period, you can operate your vehicle similarly to the way you would if you'd purchased it. However, you might need to follow some terms to make sure that you're keeping the car in good condition. For example, you might need to take the vehicle in for oil changes at predetermined intervals. 
Failure to complete any of these lease requirements might result in penalty fees. While these fees may seem worrisome, each condition of a lease is designed to maintain the performance and longevity of the vehicle. Whether you purchase or lease a vehicle, you should always take it in for regular maintenance and service to get the most out of your ride.
Leasing vs. Loan
Although similar, there are some differences between a car lease and loan for you to consider. When you get a loan, you essentially borrow money from a bank or other lending institution to pay for the vehicle. Like a lease, this involves monthly payment. 
Once you've paid back your loan, though, you own your vehicle. While monthly loan payments can be higher than those of a lease, a loan can be a good option for someone who wants to eventually own the vehicle. Deciding between a lease and a loan depends on your personal preferences, financial situation, and goals for the future.
What Are the Advantages of Leasing a Vehicle?
When selecting a payment option for a vehicle, you should do what's best for you, your lifestyle, and your budget. There are many potential advantages to choosing a leasing option. Here are some things to consider when deciding if a lease is right for you:
Warranty
With Mazda's maintenance plan, your lease will keep your vehicle under the manufacturer's warranty as you drive it. This means that routine maintenance and some repairs with certified technicians are covered. As long as you remain within your mileage limit, you'll be able to keep your car running smoothly with convenient, covered service. Remember, you can schedule service any time you need it with Hiley Mazda of Fort Worth.
Newer models
A major benefit of leasing a vehicle is that you're free to return it at the end of your lease and move on to a newer ride. If you're a driver who always likes to be at the forefront of auto technology, a lease can be a great way to do this without committing to ownership for each vehicle. You'll always get the best and newest safety technology, entertainment options, and performance features. 
Vehicles can last for many years if you take care of them. For this reason, a lease is a great way to avoid the hassle of having to sell or trade in your vehicle when you're looking for something new. If you know that you aren't looking to keep one car for a long time, a lease is better than a loan or purchasing the vehicle.
Things to Consider Before Leasing a Vehicle in Texas
There are a few things you should think about before committing to a vehicle lease. First, you may want to make sure that your finances are in good shape. When you meet with a leasing professional about your options, they may want to see that you have a decent credit score and steady employment. During your consultation, you can discuss your options in terms of the monthly payment amount. 
Lease payments are generally smaller than loan payments. However, you might have to pay them for a longer period of time, depending on how long you'd like to lease to last. You should think about your current financial status and any potential changes it might undergo before making any decisions. 
There might also be some lease terms to consider before committing to one. You might need to have a certain level of car insurance coverage, for example. You may also have to stay within a certain mileage allotment. While this isn't usually an issue, as allotments are usually sizable, you might want to think about purchasing a vehicle if you plan on frequently driving very long distances. 
How to Get the Best Lease Terms in Fort Worth, TX
Since leases depend on the depreciation of the vehicle, a ride that holds value will cost you less per month. Cheaper vehicles generally have lower payments, too. In terms of lease length, you can discuss those options with your lease consultant. Don't be afraid to negotiate for a shorter lease if that makes you more comfortable. The goal is to help you find a lease that works best for both you and your dealership.
While leases can seem complicated, we're here to help you at Hiley Mazda of Fort Worth. Contact our finance department today with any questions you might have. We'd be happy to discuss your options with you to help you finance a vehicle that you love.