Fall Events in Fort Worth, TX
Many people name fall as their favorite season, and with cooler mornings,
colorful changing leaves, and the popular spooky season, it's easy to see
why. In Fort Worth, the temperature starts having mild lows in the 60s,
while the daily highs begin to drop into the pleasant 80s. The arrival of
the fall harvest is the perfect time to enjoy the food and flavors of
the season, including pumpkin pies, apple cinnamon muffins, or winter
squash soup. If you're eager to make the most of fall, then here are some
suggestions of fun ways to enjoy the season.
Check Out a Farmers Market
Fall is known as the harvest season and that's when many crops are
harvested after a summer of growing to ripeness. This makes it a great time
to go to your local farmers market and stock up on fresh produce and fall
favorites like winter squash, colorful ears of dried corn, freshly picked
apples and pears, and other fruits of the harvest. The Grapevine Farmers
Market http://www.farmersmarketofgrapevine.com/ is open year-round at 520
Main St. just over in Grapevine. Check out the vendors offering fresh
organic produce, delicious baked goods, local cheese, and handmade crafts.
Another great farmers market is the Clearfork Farmers Market
https://www.farmersmarket1848.com/, located closer to Fort Worth at 4801
Edwards Ranch Road. You can wander the stalls on a sunny Saturday chatting
with vendors, getting your groceries for the week, and maybe getting an
early start on your Christmas shopping. Locally made beeswax candles,
naturally scented soaps and other skincare products, artisan chocolates and
sweets, hand-sewn bags or potholders, and flavorful jams and jellies are
great gifts to give a loved one who appreciates handcrafted items.
Visit a Pumpkin Patch and Corn Maze
A visit to a pumpkin patch and corn maze is a quintessential fall activity
and something you should definitely try with a couple of friends or a loved
one. At a pumpkin farm, you can usually take a hayride out to the pumpkin
patch and then walk through the fields and pick out your own pumpkin for
carving. Walking through a corn maze is a fun adventure as you follow paths
and try to find your way through it while encountering dead ends and side
paths as you go through the field of corn plants that tower over your head.
Hall's Pumpkin Farm and Corn Maze
http://www.hallspumpkinfarm.net/index.html"> is a great farm to check out,
as it has several fun activities and is conveniently located near the DFW
airport in historic Grapevine. It opens on Oct. 1 for fall activities and
you can visit every day of the week except Monday and Tuesday when it is
closed. Admission is $15 for 12 and over and $10 for kids from 4 to 11.
Other local pumpkin patches include the Pumpkin Days at Mainstay Farm Park
and The Big Orange Pumpkin Farm

at Preston Trail Farms in Gunter.
The Fall Colors at Botanic Gardens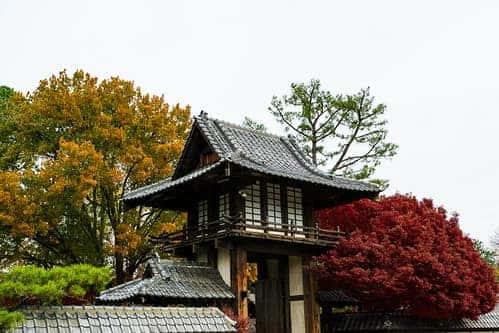 https://www.flickr.com/photos/shivashenoy/45304589655/sizes/l/; by Shiva
Shenoy
Texas may not have the same brightness of fall colors as the hills of New
England, but there are still plenty of colorful leaves to see. One great
place to do that is the Fort Worth Botanic Garden https://fwbg.org/. It
is located at 3220 Botanic Garden Blvd. and offers many beautiful spots to
enjoy the peace of nature and take some fun fall photos. Combined with the
Botanical Research Institute of Texas, which sits beside the botanic
gardens, there are over 2,500 species of plants and 120 acres of land under
cultivation with 25 different specialty gardens you can explore.
The Four Seasons Garden is filled with sculptures and plants that represent
the four seasons and is designed to stay beautiful throughout the year with
different plants coming into their showiest at different times. You won't
be able to miss the chrysanthemums and maples showing their bright colors
in the fall. One of the most spectacular places is the nearby
Japanese Garden, which is available to rent for weddings. It features
brilliant autumn leaves in reds and golds, as well as a koi pond and
Japanese structures. The Japanese Garden also hosts festivals in the spring
and fall.
Do Something Spooky
From haunted houses to ghost tours, Fort Worth offers plenty of scary and
fun ways to celebrate the fall season as the nights draw in and a chill
nips the air. If you love getting spooky but don't want to put on a long
black dress and wander around in an ancient cemetery at night, then here
are some spooktacular alternatives you can try.
The Fort Worth Stockyards offer the Stockyard Ghost Tour
https://www.fortworthstockyards.org/play/stockyards-ghost-tours, a
90-minute walking tour taking you to all the stockyard's most
haunted locations, including several hotels and the Cowtown Winery where
the tour is located.
The Moxley Manor Haunted Attraction https://moxleymanor.com/ actually
features three haunted houses, Moxley Manor, Regan's Revenge, and Big Top
Terror. Choosing which one you want to go to doesn't have to be frightening
since they are all located at 510 Harwood Road in Benton between Dallas and
Fort Worth.
Hangman's House of Horrors https://hangmans.com/ ; is located in a military
base that is over 100 years old, found right in Fort Worth, and is one of
the oldest haunts around. It's open through Halloween and its most popular
activity is a 45-minute walk through unimaginable horrors. Be prepared to
be scared.
The fall months are a great time to get out and explore something new.
Changing leaves put on a beautiful display before they fall to the ground,
leaving the trees bare for winter. Cooler weather makes outdoor activities
more enjoyable than the heat of summer, so this is an excellent time to
check out botanic gardens and enjoy the farmers markets that you find. At
Hiley Mazda of Fort Worth, we'd love to hear what your favorite fall
activity is. Drop us a line
https://www.hileymazdafortworth.com/contact-us/ and tell us if you've
tried any of the ones on this list.